Learn how to make professional quality Artisan bread with my Easy Artisan Sourdough Bread tutorial. I will walk you step by step through this simple process and teach you the secrets to making delicious crunchy and airy Sourdough loaves.
My love for sourdough breads is no secret. Not only does it taste like professional high quality bread that you spent all day working on, but its also so much healthier for your body than anything you can buy at the store.
In our house, this bread is usually gone in a 24 hour period. From sandwiches to snacks, its just so good that we tend to grab a piece every time we pass by.
Have I gained a pound or two from this deliciousness? Yes, an unfortunate side effect of not having a lot of self control when Artisan Sourdough bread is around. I blame it on my Italian Grandma. She loved her buttered breads and pastas. Ever heard the saying, never trust a skinny chef? We're gonna go with that here.
I will give you all my tricks to making my crunchy and airy sourdough bread with those amazing air pockets that are great for every kind of eating, from sandwiches to sopping up that last bit of sauce on your plate. Im getting hungry just talking about it.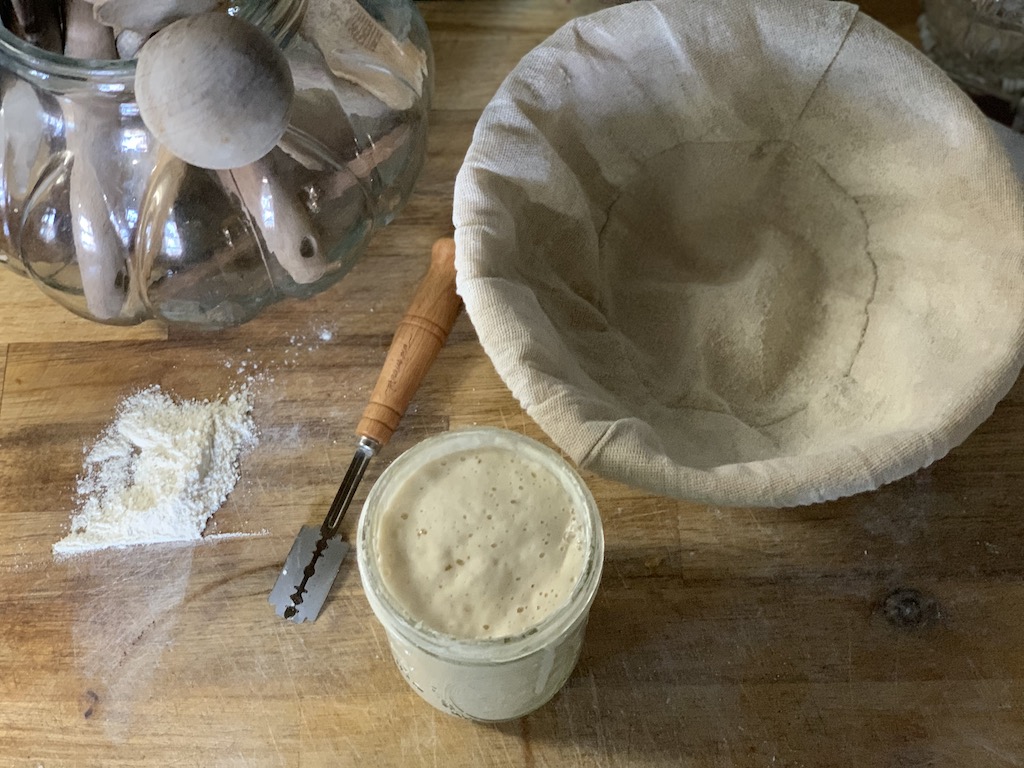 This post contains affiliate links, which means I make a small commission at no extra cost to you. See my full disclosure here.
Tools and Ingredients needed for Sourdough Bread
Sourdough Starter, check out my Easy Sourdough Starter Tutorial here.
Organic Bread Flour
Distilled Water
Banneton Proofing basket, I bought this kit which includes most of what you will need to make beautiful artisan loaves
Razor, included in the kit (optional)
Sourdough Whisk, also included in the kit
Parchment paper
Dutch oven or bread baking Cloche
I will earn a commission if you purchase the tools I recommend via the links above, at no extra cost to you. This helps me run the blog and keep delivering high-quality recipes and guides to you.
Instructions for My Easy Artisan Sourdough Bread
Step 1: Preparing your starter
If your starter is being stored in the fridge, the day before you are going to make bread, take your starter out of your fridge, discard half and feed it. Do this again that night, and then again the next morning. By the second night it should be awake and active. You want it at top performance. If you have been keeping your stater on the counter and regularly feeding it, you can skip this and go straight to step two
Step 2: Mixing the dough
In the evening, I do it after the kids are in bed, weigh your sourdough starter, salt, and water in a medium sized bowl and whisk together. Next add your bread flour and whisk with your dough whisk just until combined. Set it aside for about 30 minutes. This allows all of the flour fully absorb the water.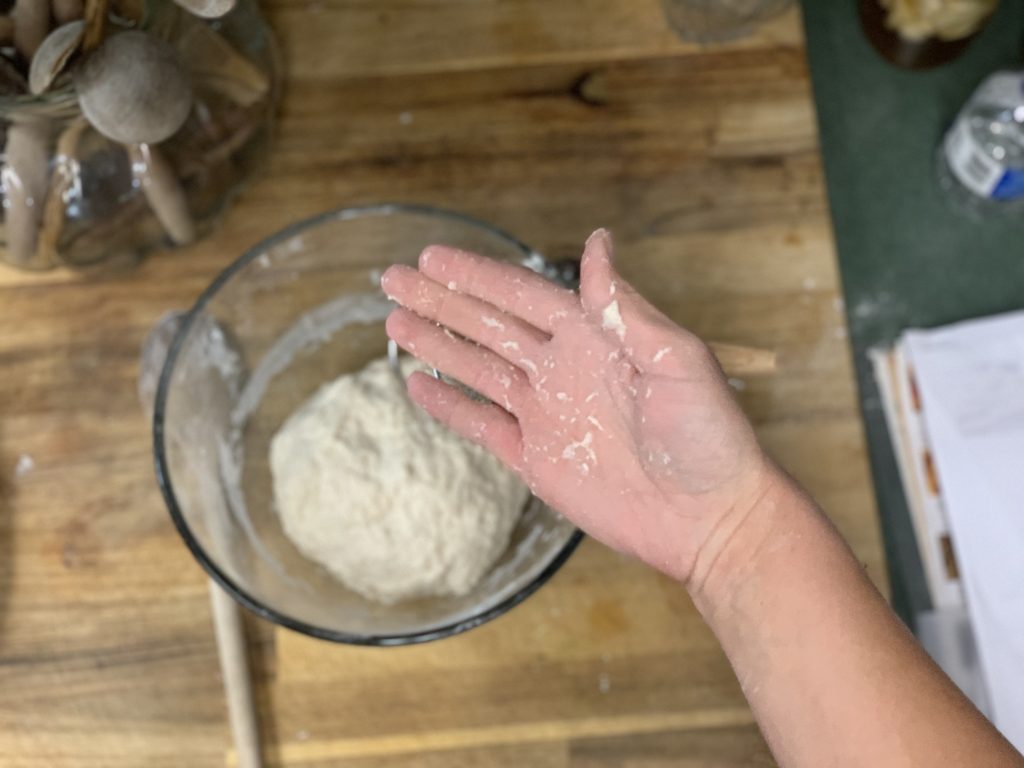 Step 3: Stretch and Fold
After about 30 minutes has passed, working inside your bowl, stretch and fold your dough for at least a minute or two. Your dough should be wet and stick to your hands. I end by forming my dough into a nice round ball. Cover your bowl with plastic wrap and set aside in a warm place overnight. Your dough should double in size during this overnight rise/ferment.
Step 4: Preheating your oven and Preparing your boule'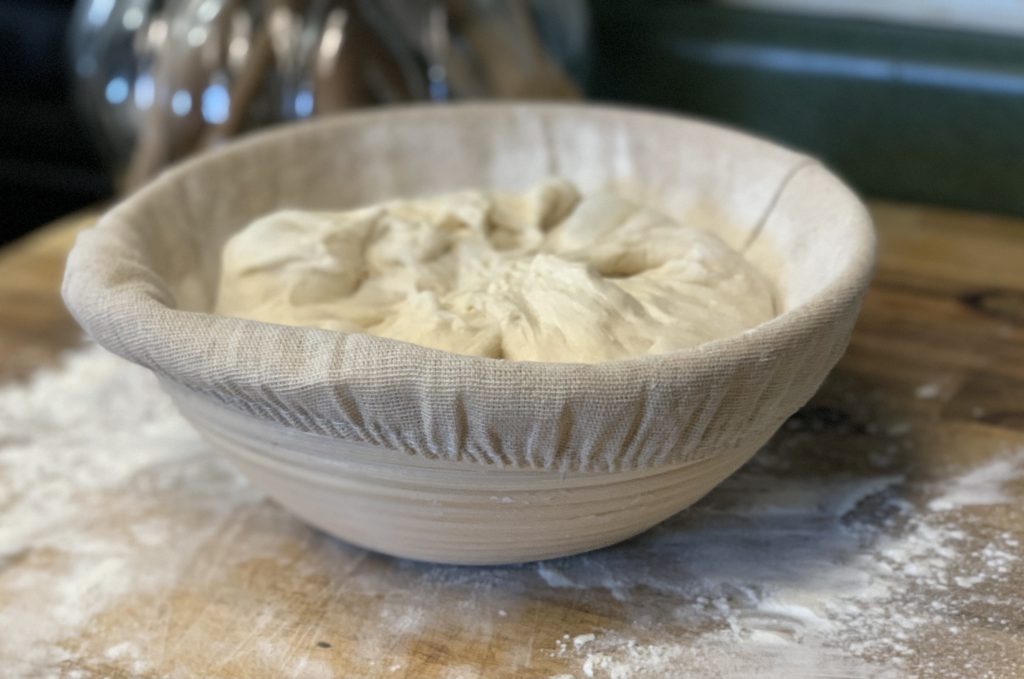 The next morning, after your boule' has fermented for 8 hours. Ive gone as long as 12 hours. Scrape your dough out of the bowl and onto a floured work surface or floured parchment paper, being careful not to disturb many of the air pockets that formed overnight. Do Not punch your dough down.
Work your dough by gently pulling it towards you while tucking the dough with your hand and rotating. Repeat this until you have gone around the dough a few times. This forms your dough into a nice round boule'. Gently put your dough top side down into your banneton and cover for 30 minutes. Be careful that you do not go over 30 minutes. This is your last rise before you bake.
While your boule' is proofing, Preheat your oven to 500 degrees Fahrenheit with your Cloche or Dutch oven inside. You want it to heat up as your oven heats and the 30 minutes gives your baking dome plenty of time to heat all the way through.
Step 5: Style and Bake your Easy Artisan Sourdough Bread
Once your oven and baking dome have fully preheated and your boule' has proofed for 30 minutes, it is now time to decorate and bake your bread. Carefully remove your hot baking dome from your oven. Flip your dough seem side down, or if using parchment paper, transfer it to the baking dome plate. I use the lame that came in my kit to score my bread and the stencil to create a beautiful flower on top. Replace your lid, and put it in the oven to bake.
Immediately lower your temperature to 425 and bake for 20 minutes covered. Then remove the lid, and bake for 15-25 more minutes.
Carefully remove your bread from the oven and turn over onto a baking rack to cool completely before slicing. Store in a bread bag or ziplock bag to keep fresh.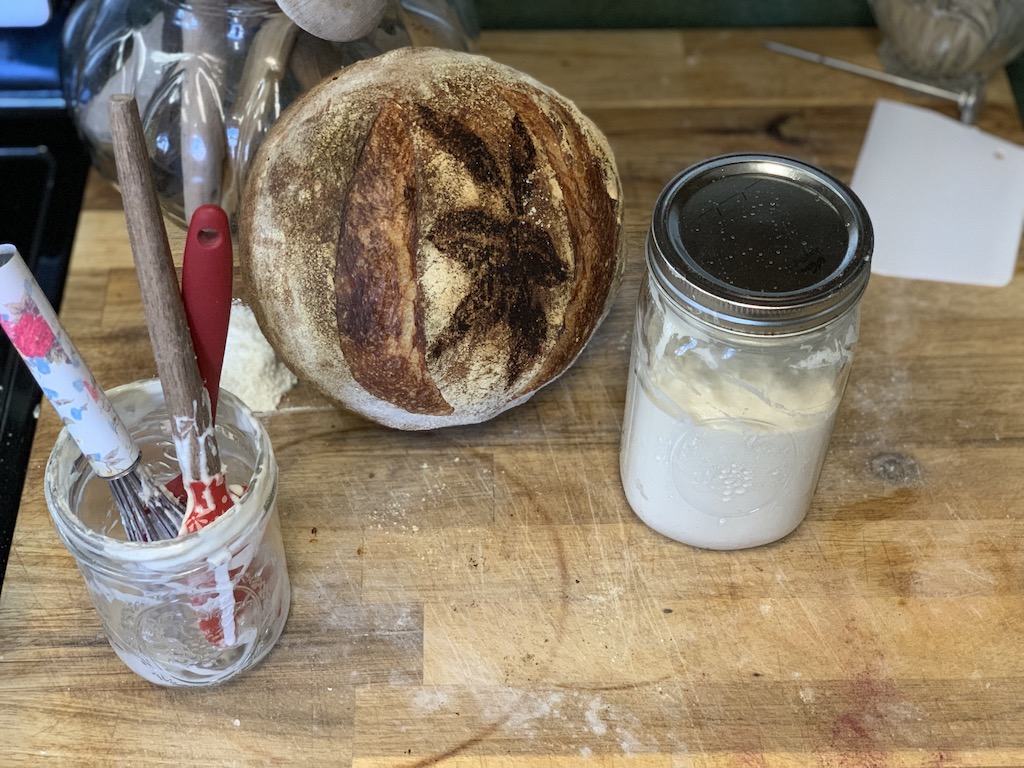 Tips I've learned along the way
I prefer to use rice flour the morning after my long proof. At this point my bread will no longer have time to ferment and the rice flour is gluten free. It also helps to prevent sticking in my banneton proofing bowl.
A thin cotton kitchen bowl works great inside my banneton.
I proof my dough overnight inside my turned off oven with the light on. The light gives just enough warmth for the dough. This is especially important during winter months when the air tends to be dryer and cooler in our homes but I will also do this in the summer sometimes. Just don't forget you put it in there and turn your oven on.
Using parchment paper helps to keep your surface clean and also helps to safely transfer your boule' to your hot baking dome or crock. I prefer not to use it because I like the crust better when the dough is in direct contact with the hot baking surface.
There are tons of beautiful scoring designs online so take some time to google simple ones to start with and practice. The kit I recommended also came with a stencil. Ive been experimenting with different plant based colorful flours, such as beet flour and chaga flour, to create beautiful reds and green colors on top.
Scoring your bread helps with oven spring and can actually encourage an under proofed loaf to rise better.
Share my recipe with your friends and comment below any ideas of recipes you would like to see more of.
Easy Artisan Sourdough Bread Recipe
Bake Delicious Professional style bread with this Easy Artisan Sourdough Bread Recipe.
Equipment
Bread Cloche or Dutch Oven

Dough Whisk

Large Mixing Bowl

Lame or extremely sharp knife
Ingredients
550

grams

Bread Flour Organic

295

grams

Distilled water (room temperature)

add more if needed to make a sticky wet dough

10

grams

Redmonds Real Salt

150

grams

Bubbly Active Sourdough Starter

10

grams

Rosemary or Herb De Provonce

(optional)
Instructions
Instructions
1. Measure 150 grams of Active Bubbly Starter into large Bowl, with 295 grams of water, by weight. Whisk Together.

2. Add 550 grams of Organic Bread Flour and 10 grams of salt to the bowl with the starter and water. Add optional herbs now if you are using any. Using a bread dough whisk, mix the ingredients just until combined. Let your dough rest for 30 minutes.

3. Stretch and fold your dough for a minute or two. I pull dough from the outside, and push it down into the center of my dough. I make about 4 or 5 rotations of this and call it good.

4. Cover your dough and put in a warm place, such as your oven, overnight or about 8 hours. Your dough should double in size.

5. In the morning, carefully scrape your dough out onto a floured work surface. Be careful not to deflate your airy dough. Gently pull the dough towards you in a circular motion, tucking the sides and tightening the top and shaping your boule'.

Preheat your oven to 500°F with your Bread Cloche or Dutch Oven inside

Cover your boule' and set it aside to rise for 30 minutes while your oven and baking vessel preheat. This is your final rise and should not go over 30 minutes.

When your Bread Cloche is heated, carefully remove it from the oven. Transfer your boule' to your Cloche and score and or stencil your it. Cover it with the lid and replace it in the oven.

Turn your oven down to 425° and bake for 20 minutes.

After 20 minutes, carefully remove the hot lid and bake for another 20 to 25 minutes, until bread is at desired color.

Carefully remove Cloche or pot from the oven and gently turn the bread out onto a baking rack to completely cool.
Notes
Tips
Using parchment paper during shaping can help to transfer the dough to a hot dutch oven and it keeps your work surface cleaner but it may cause wrinkles in the bottom and sides of your dough and affect the crust slightly
I use rice flour to dust my surface for shaping my boule' as well as dusting my banneton to keep the dough from sticking to my tea towel.
Proofing your dough inside your oven with the light on creates a nice warm, moist environment for your dough
Scoring your bread helps with oven spring. It also gives your bread a professional beautiful look. 
There are endless beautiful scoring designs online. Begin with some simpler ones to practice with.